Lyon Airport Transfers
Book a Lyon Airport Transfers, for your trips from Lyon Saint Exupéry airport to the Lyon region and surrounding towns.
15 years of quality experience
more than 5000 races carried out
Taxi from Lyon airport to more than 90 cities in Europe
Lyon Airport Transfers
One of the first things you'll need to plan is transportation from the airport to your destination if you're travelling to Lyon, France, for either business or pleasure. Thankfully, there are lots of choices, including both public transit and private transports. We'll examine Lyon Airport Transfers in more detail here arming you with the knowledge you need to plan your trip successfully.
Need a taxi for Lyon airport?
A unique comfort and safety experience during your taxi ride
Punctuality
We know how precious your time is and we put everything in place to get you to your destination on time: flight tracking, shortest and fastest routes, etc.

VIP welcome
15 to 30 minutes before your arrival at the pick-up location, a professional taxi driver is ready to greet you with a sign marked with your name.
Free waiting
Train or flight delays can happen, or an unexpected event during the trip. In these circumstances, our team offers you the wait for free, at no additional cost.
Transparent taxi fare
The price of your trip is defined in advance when booking your taxi and without hidden costs. Our fares are in accordance with official taxi fare regulations.
Public Transportation
Depending on where you're going, there are various choices for getting to Lyon Airport through public transit. The most well-liked choice for getting from the airport to Lyon Part-Dieu train station is the Rhône Express tramway. Trains operate every 15 minutes during peak hours, and the trip only takes 30 minutes. You can purchase tickets online or at the airport for €16 for one way travel.
Local buses and regional trains are other choices. Local bus routes 28 and 29 connect the airport with other Lyon locations, and regional trains connect Lyon to other nearby cities. Some alternatives, meanwhile, can be less practical and take more time than the Rhône Express.
Private Transfers
Private transfers are a great option if you're seeking for a more relaxing and practical means of transportation. When you book a private transfer, a driver will meet you at the airport and bring you directly to your destination in a spacious, air-conditioned vehicle.
Lyon Airport transfers costs range from €60 to €80 for a one-way transfer depending on the type of car you select and the distance to your destination.
Transfers to and from the Lyon Airport are quick, simple, and convenient Lyon Airport Aeroport whether you choose public transportation or a private transfer. Due to its quickness and frequency, the Rhône Express tramway is a well-liked choice, while private transfers provide comfort and door-to-door service. Whatever your preference, make a reservation in advance to prevent any hiccups or delays when you arrive.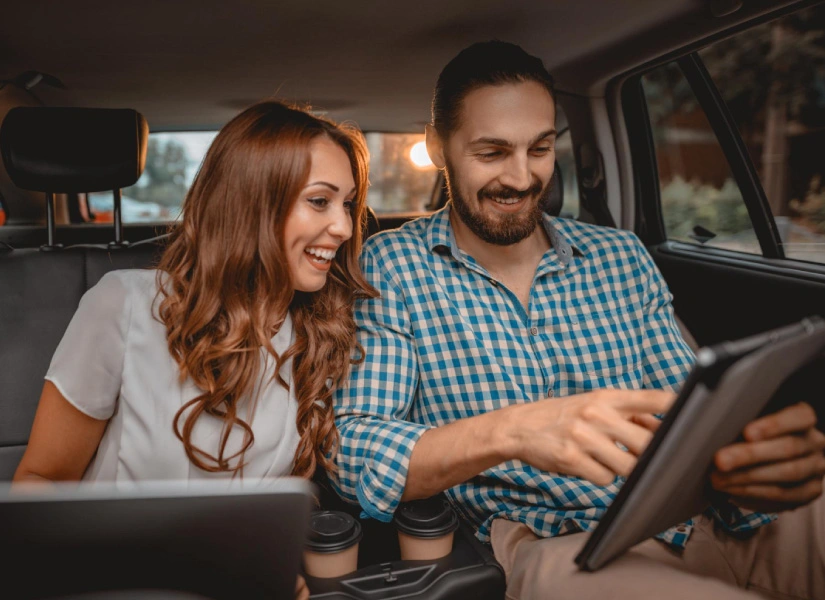 FAQs
How far is the city centre from Lyon Airport?
About 20 kilometers separate Lyon Airport from the city core.
How long does it take to go between Lyon Part-Dieu train station and Lyon Airport?
The Rhône Express tramway needs about 30 minutes to complete the trip.
Can tickets for the Rhône Express tram be purchased at the airport?
Yes, you can purchase tickets online or at the airport.
What is the price for a private transfer from Lyon Airport?
The cost of a one-way transfer varies depending on the distance and type of vehicle, but you should budget between €60 and €80.
Professional taxi vehicles
Discover the characteristics of our taxis
Clean vehicle (cleaning after each race)
3 people and 3 pieces of luggage (Sedan)
8 people and 15 pieces of luggage (Van)
Vehicles adapted for ski resorts (snow tires)
Taxi fares Lyon Saint-Exupery airport
Take advantage of the most advantageous taxi fare for Lyon-Saint-Exupéry airport with impeccable quality of service and transparent prices. The table below shows the prices of taxi fares from Lyon-Saint-Exupéry airport to ski resorts, surrounding towns, Lyon Part-Dieu and Perrache train stations.
*heure de nuit : 19h00 à 7h00
Contact Taxi Lyon Airport
Need a taxi for Lyon-Saint-Exupéry airport? Contact a taxi from Lyon airport on 04 69 96 19 00, by e-mail or via the contact form. Leave us a message and our team will get back to you as soon as possible.